Thank you again for a trip we will always remember!
November 2011
Hi Maxine,
Thank you again for a trip we will always remember!
Port Antonio is a wonderful slice of true Jamaican culture and the Ridge Bay Chateau is a perfect base from which to explore it. If you prefer to meet and mingle with residents rather than follow the crowd on a structured tour, this is the place for you! Our family of six (grandparents, parents and school aged children) stayed at Ridge Bay Chateau for a long weekend and had a wonderful adventure. The location and view are ideal and we wanted for nothing more. We are barely home a day now and thinking about when we can return. The place is well appointed, clean, and comfortable inside and out. The gardens and decks are amazing and the bedding is terrific. Everyone associated with the Chateau is warm and friendly, caring only that you have a great experience.
Maxine was instrumental in helping us accomplish all of the things we wanted to do within the few days we had. She connected us with terrific guides, suggested locations, and advised us on travel routes and what to expect. She even waited to greet us despite our travel delays and called to be certain we were happy and having fun. Everything was perfect and it was because she sincerely cared about our experience and saw to our needs. I would be remiss to ignore the Chateau's housekeeper/chef, Marva's, contribution here. She prepared amazing jamaican foods for us, navigated the markets so we could go to the beach, and provided a perfect balance of service and companionship. It was never strange to have her there with us-- she would fade into the scenic background, but appeared smiling the moment someone needed her. She is such a delight and her food is delicious! If you have the option to have Marva with you, we highly recommend her.
- Lauren Boyer, CEO, Underscore Marketing LLC, USA
---
Portland rocks! And so does Ridge Bay Chateau!
February 2011
It's a piece of heaven on earth - a chance to re-charge one's batteries before confronting the challenges of work. I particularly loved the four poster bed - such a comfortable sleep. And the view in the mornings - takes your breath away - oh and the birds chirping away! A visit to Reach Falls (in spite of the challenging roads) provided the perfect ending to a welcome break.
- Dave, Vindy & the kids
---
THE VIEWS AND PEACEFULNESS OF RIDGE BAY CHATEAU AND MARVA'S COOKING MADE OUR VISIT TO PORTLAND - PERFECT
February 5, 2011
As Marva said to me just before I sat down to write my thanks in this book " All good things must come to an end" and this vacation with the "Jamaican" side of the family was soooo good. We had some adventures: Reach Falls, rafting on the Rio Grande, swimming at Boston Bay with jerk for lunch. But I think we all agree that the views and peacefulness of Ridge Bay Chateau and Marva's cooking made our visit to Portland perfect.
Marva is the queen of cooking, always pleasant, helpful and we want to take her home with us.
Thanks for all you did Marva.
- Ellen and Gordon Phillipson
Mary Hollebone and family
---
We feel in love with this place...
January 26, 2011

My cousin Janelle told me about Ridge Bay Chateau and I had to visit, so I told my girls about it and we made our plans.

We feel in love with this place from the moment we arrived. The view was breathtaking and it was exactly what we all needed. It was so relaxing and comfortable. And of course Marva was the best, her cooking was deeeeee lish!!! The place was clean and well kept. If ever you wish to get away for peace and beauty check out the Chateau.. looking to forward to our next trip to Portland!!!!

- The girls: Natalie, Sherine, Tricia, Susie, Janice, Dajah
---
Beautiful...
January 14, 2011
Ridge Bay Chateau is beautiful. We've thoroughly enjoyed our stay here, peaceful and quiet. Thank you for all the arrangements
- Paula and Duane Thompson
Saskatchewan, Canada
---
An ideal start to 2011
January 4, 2011
Imagine being surrounded by lush hills, mature trees, green mangroves and the caribbean sea. Now picture yourself on a verandah sipping coffee and watching birds fly over the bay - waking up, in a plush bed and being greeted by views of blue and turquoise... That was our experience at Ridge Bay an ideal start to 2011.
Thanks maxine
- Chris and Nickie
---
A true piece of heaven
December 2010

We loved staying here at the beautiful Ridge Bay Chateau. The art, colors, exquisite taste, the views from the porch - all so very special Thank you for your generosity and thoughtfulness in attending to our every need. The Christmas Tree, the hospitality - above and beyond our expectations. It's been a perfect Christmas here at Ridge Bay Chateau.

Also, we feel so lucky to have been cared for by Marva. We have travelled to Jamaica for some twenty odd years and Marva is not only one of the very best cooks and housekeepers we have met, she is truly a lovely presence.

We look forward to coming back to your lovely villa.

How lucky we feel to have found Ridge Bay Chateau.

Thank you

- The Thorsen family
(Ann, Mark, Michael & Eve)
Chicago, USA
---
Your staff is the 'best' in Jamaica.
November 2010
Thank you for all you have done and provided. The extra amenities like water (drinking), soap, toilet paper etc. are greatly appreciated. Your staff is the 'best' in Jamaica. Thank you for checking on us during the hurricane threat. You went above and beyond what was expected. If and when we make it back to Port Antonio, we will stay at Ridge Bay Chateau.
- Jean, David and Joe
Oklahoma, USA
EDITOR'S NOTE:
The Woodward's did make it back to Port Antonio, AND in record time, making good on their promise to stay at Ridge Bay Chateau. In fact their return will go down in the history books as the world's fastest repeat guests' stay. The Woodwards returned to check in again after a few hours, declaring they'd rather spend the rest of their vacation in Jamaica at their new found favourite spot in Portland. How cool is that!
As we say at Ridge Bay Chateau, "retreat to sheer bliss, you deserve this."
---
One word........"Breathtaking!"
October 13, 2010

We feel in love with this place from the moment we saw it on the website. When we arrived, the view took our breath away and was "exactly" the same way it was shown on the site. It was very comfortable and relaxing. It had everything that would make a vacation memorable. Seclusion, beauty, comfort are just a few words to describe this jewel. We did not stay for long because our schedule did not permit us to do so. That was our only regret. We had a very romantic weekend at the villa as well as on our rafting trip to Monkey Island and Blue Lagoon nearby. If we had to sum up Ridge Bay Chateau it would be in one word...."Breathtaking!" Looking forward to visiting again.

- Carlon and Janelle
---
Fall in love, over and over again
September 2010
My husband and I were married in Jamaica two years ago. Ridge Bay Chateau was the perfect setting for our Second Year Anniversary. Secluded, breezy, warm, great scenery and privacy what more could we ask for? This became our second honeymoon. The location is perfect. Traveling into the town of Port Antonio or traveling to the beaches took minutes. This always allowed us to get back and enjoy our get away. My husband and I recommend Ridge Bay Chateau for that special get away. Fall in love, over and over again. We will return.
- Nancy and Azariah
Canada
---
Peaceful, beautiful and comfortable
August 24, 2010
My stay here @ Ridge Bay Chateau was really lovely, so very peaceful, beautiful and comfortable. I will be back soon, but more important I will tell everyone I know. The highlight of the whole trip for me was meeting MARVA and enjoying wonderful Jamaican cooking food. She gave us a cooking lesson and made sure we were all very happy and relaxed. Peace.
- Earline Sanders
---
Marva is awesome
August 24, 2010
Thanks for creating such a wonderful space. Marva is awesome. We love her. I appreciate all of your efforts and professionalism. Take care. I will continue to spread the word about Ridge Bay Chateau.Thanks Again.
- Aliona Gibson
---
Jewel of the Island
August 24, 2010
The stay here is remotely beautiful. Marva is a Jewel of the Island.
- Sheila Head
---
What a Jewel Marva Brown is!
August 24, 2010
What a Jewel Marva Brown is! Our stay was made so much better because of her. She is such a marvelous cook, so generous and hospitable. Our stay would not have been the same without her. Winston was wonderful also. They were almost like family to us. We love Jamaica.
- Nyla Dyson
---
Highly recommend Ridgebay Chateau
August 2010
As veteran adventurers of all places and things Jamaica, we are more than pleased to highly recommend Ridgebay Chateau as an excellent retreat spot for you and yours. It was a relaxing and calming experience and the customer service had just the right personal touch.
The only drawback we had was that we had to leave. But – we shall return.
- AJ & Yvonne

---
It exceeded my fondest expectations!
May 2010
Having travelled extensively in the Caribbean, I was somewhat 'prepared' for the Jamaica experience ie. the whole island is a botanical garden since much of the territory is rain forest. However, your property in Port Antonio, Portland situated in a pristine position overlooking the water, and so near other outstanding beauties of creation - the Blue Lagoon, Frenchman's Cove, Somerset Falls etc. it exceeded my fondest expectations! I highly recommend it to those who want a real Jamaican experience.
- Kathryn Hyams
Palm Springs, California, USA
---
You might not want to go back home
May 2010
Ridge Bay Chateau provides an excellent location for a retreat away from the hubbub of London life. With great views and proximity to well known Portland sites, the Chateau is an unimaginable location for those who want to experience real life in Jamaica. Port Antonio is a friendly town, and I can recommend Somerset Falls, Frenchman's Cove, the Blue Lagoon for easy day excursions. Warning: You will be so chilled and rested to the bone that you might not want to go back home.
- Abigail
London, England
---
Everything was beyond our wildest dreams
May 2010
It has been a wonderful eight days at Ridge Bay Chateau. Everything was beyond our wildest dreams. The views were just spectacular. The ethnic food delightful and so was the cook Miss Marva. Real Jamaican, Mon! Considering the wonderful time we had, we definitely will be back to this most relaxing and breathtaking cottage of Ridge Bay Chateau in Port Antonio, Portland.
- Astley and Rachel Brown
Palm Springs, California, USA
---
We felt right at home at the Chateau
April 10, 2010
"Our visit to Ridge Bay Chateau exceeded our expectations!!! We felt right at home at the Chateau. The place was clean, spacious and so very beautiful. We would move in if they would let us. (smile).
Portland is such an unspoilt, non-commercialized jewel of the Caribbean; such a beautiful and delightful place. We are now so addicted to Portland.
We will be back soon!
Thanks for the great food and wonderful Jamaican hospitality."
- The Brothers Family
Philadelphia, Pennsylvania USA.
---
I found my Shangri La!
April 10, 2010
What a beautiful, peaceful and restful vacation! I found my Shangri La!
The Chateau is beautiful and comfortable. The scenery is truly beautiful and breathtaking. I have never seen such beautiful flora accommodation unmatched!
I will be returning again and again to Ridge Bay Chateau in Portland, Jamaica.
- Bernice Brothers
Philadelphia, Pennsylvania USA.
---
We had an amazing time...
March 1, 2010
I guess we were the first guests for 2010! We had an amazing time taking in all that Portland, Jamaica has to offer...jumping in the Blue Lagoon, eating at Norma's, spending quality time at the beach and of course meeting Mrs. Williams and her daughter. Thank you for opening up your house to three American girls looking to spend their vacation in the most beautiful part of the Caribbean. We greatly look forward to coming back and visiting again soon.
- Sara, Marissa and Lori
---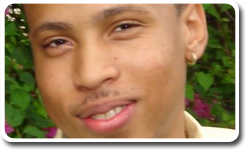 Never wanted to leave
January 22, 2010
Ridge Bay Chateau is a breath of fresh air. I don't get away from Kingston much, this being my first time in Portland I was quite awestruck at the mood ridge bay gave off from the view overlooking the sea and also the beach being just a few minutes away made it a relaxing spot with lots of possibilities. I was also captivated by the bathrooms (they had a luxurious touch). It was certainly a nice break away from the norm. It ended in a reluctant drive home. I will most definitely be back.
- Matthew Roach
---
The villa is great.
January 18, 2010
The villa is great. Love the comfortable setting and immaculate surroundings which contributed greatly to the entire experience. The exclusive interior gave a sense of security and homliness.
- Lisa R. Wilson
---
My Experience
January 18, 2010
Being my first trip to Portland, staying at the Ridge Bay Chateau most definitely made a great impression on me, I can honestly say that a future visit is in the making. It is a serene getaway that is friendly both to couples or even a group of friends (but more -so couples). It has a certain neo-vintage look to it, in that it would appear old fashioned on the outside, while the interior gives a mixed impression of both modern and vintage, the artwork and the wooden ship in the living area was a nice touch. The chateau would give a comforting feeling to anyone that enters it.
Being a fan of photography, the view from the chateau gives the opportunity for some fantastic photos all during the day, I remember waking up around 6: 15 to catch the sun rising over the mountains, it was truly amazing, you can't find such scenery being in the city.
I also like that it was in close proximity to the Trident Castle, French Mans Cove, Boston Jerk Centre and other famous landmarks in Portland which are a must-go. The place was tip-top and provided a truly great experience to Portland.
- Steven Channer
---
A beautiful home away from home.
January 18, 2010
My stay at Ridge Bay Chateau proved to be both entertaining and refreshing. On arrival we were greeted by a breathtaking view of the ocean. For first-timers though, it is important to note that the entrance to the villa is a bit concealed. The villa is fully equipped and the environs provides a calming and serene setting for total relaxation. The bathroom facilities are also "top notch" adding to the unique style of the villa.
The Villa is located near local attractions such as Frenchman's Cove and Boston Jerk, allowing us to explore the community with ease.
Thank you Ridge Bay Chateau for this beautiful home away from home.
- DeAnne Avelle
---
A nice getaway... A memorable experience.
November 16, 2009
Ridge Bay Chateau is a nice getaway, conveniently located near the sea, affording visitors a relaxed, secluded atmosphere as you bask in the scenic view of the Caribbean waters below. For me, it was definitely a memorable experience. The spacious three bedroom was like a home away from home. I spent three of the most enjoyable days and stress free nights at Ridge Bay Chateau and took in the sights and sounds of Portland including visits to Frenchman's Cove, and Somerset Falls. I can't wait for my next visit.
- Jeremy Shields
---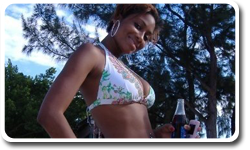 A fun and relaxing getaway. Awesome scenery!
November 5, 2009
I have stayed at RBC a few times in recent months with friends and I must say I had a great time. We spent most of our time sipping on cocktails and taking in the view of the bay, which is definitely a sight to see! When not at the house, we went to Frenchman's Cove and took a trip down to Reach Falls.
It was definitely my ideal Jamaican experience and I can't wait to go back!
- Blair Milan
---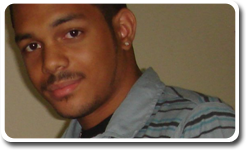 A refreshing weekend away from reality...
November 4, 2009
I've been a guest at the Ridge Bay Chateau a few times and will definitely go back again and again. The price is extremely reasonable for a 3 bedroom 2 bathroom house and the other places that I've vacationed cannot compare. I can bring a group of friends and family and have a memorable weekend escape from reality. It's currently my favourite vacation spot and I only wish I had the time now to go back.
- Daniel Harker
---
Have you stayed at Ridge Bay Chateau yet?
Let us know how your stay was - email us a testimonial at:
contact@ridgebaychateau.com